Edit Current Bio
UCB is written collaboratively by you and our community of volunteers. Please edit and add contents by clicking on the add and edit links to the right of the content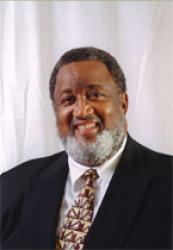 Born on 3-20-1944. He was born in Morehead City, NC. He is accomplished in the area of Healthcare.
Basic Info
Attachments
Relations
Organizations
Accomplishments
Schools
Employers
Winford A. Quick, M.D. is the Medical Director at the General Motors Corporation, Powertrain Division's Tonawanda Engine Plant. His responsibility is to provide quality medical care to the 1,800 plus employees at the facility. Dr. Quick was a Clinical Assistant Professor in the Department of Family Medicine, University at Buffalo, School of Medicine form 1979 to 1983. He is currently a Clinical Assistant Professor in the Department of Social and Preventive Medicine, providing on-the-job, occupational medicine experiences to residents in that department.

The son of an A.M.E. Zion minister, Dr. Quick was born and raised in Morehead City, North Carolina. Dr. Quick earned a bachelor's degree in biology, while on a football scholarship, from Livingstone College, Salisbury, North Carolina in 1966. He earned a M.S. Degree in Air Pollution Toxicology from the School of Pharmacy of Temple University, Philadelphia, Pennsylvania in 1969. In 1973 he earned his Doctor of Medicine degree from Albany Medical College in Albany, New York. He completed his internship and residency in Family Medicine at the Deaconess Hospital of Buffalo and Women's and Children Hospital of Buffalo from 1973 to 1976. From 1977 to 1982, Dr. Quick worked as an evening staff physician at the Jesse Nash Community Health Center. Following 10 years of private medical practice in Buffalo, Dr. Quick joined the Medical Department of the General Motors Corporation in 1981.

Dr. Quick is a former member of the University at Buffalo School of Medicine Admissions Committee and a former member of the Board of Directors of the Buffalo Urban League. He is also a former member of the Board of Directors of the Grace Manor Nursing Home. He is Chairman of the Board of Directors of the St. John Christian Academy. He is also a board member of the United Way of Buffalo and Erie County and was recently appointed to represent Buffalo and Erie County on the New York State level with the United Way. He donates many hours in efforts to decrease teenage pregnancy and increase the awareness level of teens to sexually transmitted diseases and AIDS.

Dr. Quick has received numerous awards and honors including: the Certificate of Appreciation for Outstanding and Dedicated Service presented by the Student National Medical Association; citation awarded for outstanding service on the Medical Admissions Committee, School of Medicine, University at Buffalo 1978-81; Award of Recognition for his continuing humanitarian work, which positively influences children, strengthens families and empowers communities to improve the quality of life for all children and adults, New York State Division for Youth, 1995; Humanitarian Award, Lakeside Family & Children's Services, Spring Valley, New York, 1995; Black Achiever in Industry Award, 1490 Enterprises, Inc., 2000; and Student Choice Award, Best Evening Seminar Speaker, Upward Bound Programs, SUNY, 2002.

Dr. Quick is a member of the National Medical Association, American Occupational Medical Association, American Medical Association and the local and state medical societies. He is also a member of the Omega Psi Phi Fraternity and Sigma Pi Phi Fraternity, Grand Boule, where he served as Grand Agogos and as a member of the Centennial Book Committee.

Dr. Quick is married to Joyce Ford Quick, a retired educator and an Uncrowned Queen. They have a son and daughter and a granddaughter and grandson. They reside in East Amherst, New York. Dr. Quick and his family are active members of St. John Baptist Church in Buffalo, where he serves as a Deacon and Mrs. Quick as a Deaconess.