Edit Current Bio
UCB is written collaboratively by you and our community of volunteers. Please edit and add contents by clicking on the add and edit links to the right of the content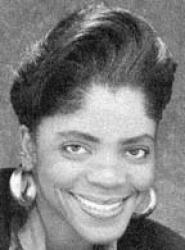 Valeria Annette Cray Dihaan
She was born in West Palm Beach, FL. She is accomplished in the area of the Arts.
Basic Info
Attachments
Relations
Organizations
Accomplishments
Schools
Employers
The eldest of eight siblings, Valeria Annette Cray was born in West Palm Beach, Florida, to Leadley and Annie Mae Sherrod Cray. Her mother encouraged her artistically and told her, "When God created artists, they were special people with a special gift of seeing, hearing and feeling things differently than others." Leadley Cray, Valeria's father, was a self-taught auto mechanic, who learned through practical experience.

Both Leadley and Annie Mae felt that education was the most important part of their children's life. After losing her mother, Valeria and her siblings were reared by their grandmother and later their aunt, Ruby Sherrod Jones. Valeria's artistic excellence was recognized and encouraged by her family. Today, Valeria is a sculptor artist working in the mediums of ceramics, copper, aluminum, acetate, jute, textiles, plexi-glass and wood. She was nurtured early in life by the example and inspiration gained from her parents as well as other family members.

She holds a Bachelor of Fine Arts degree from the University of Buffalo and a Masters of Fine Arts degree from Pratt Institute, New York. While studying and teaching art with the Aztec Indians in the mountains of Tespostlan, Mexico, she assisted with the construction and organization of schools in the area. Cray-Dihaan also studied Jamaican art and culture. Tension, Texture, and Design: The Soul of an Artist is an exhibit of her latest work incorporating copper, stainless steel, acetate, plexi-glass and brass.

Valeria is a social activist and is president and founding member of the community based organization, 50 Women with a Vision, a major community project centered around the restoration of the Apollo Theater and other community projects on Jefferson Avenue in Buffalo.

Valeria is also a businesswoman and owns and operates East Wind, a salon specializing in hair loss and hair attachments. She is married to Sylvester Dihaan. Her son Hiram is also a visual artist whose artistic growth Valeria encourages.