Edit Current Bio
UCB is written collaboratively by you and our community of volunteers. Please edit and add contents by clicking on the add and edit links to the right of the content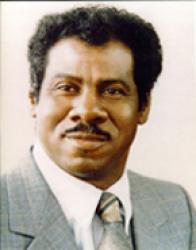 He was born in Erie, PA. He is accomplished in the area of Community.
Basic Info
Attachments
Relations
Organizations
Accomplishments
Schools
Employers
Ronal Bassham was born in Erie, Pennsylvania. He is the eldest of the six children of Thaddeus and Peggy Bassham. The Bassham family moved to Buffalo, New York when Ron was a child. He attended Buffalo Public Schools. In 1953, he left Emerson High School at the age of seventeen to enlist in the United States Air Force. Ron served in Vietnam from 1971 to 1972. For his outstanding bravery and service at Quang Tri, he was awarded The Bronze Star Medal and the U.S. Vietnam Service Medal. He retired in 1975 after twenty-two years of honorable service to his country. During this tour of duty he had the opportunity to serve on many continents including, but not limited to, Asia, Europe, South America and Australia.

After his retirement from the Air force, Ron was sure that he had more to give the private and public sectors. He began a new career with Harrison Radiator in 1977 and in that same year helped to create the first successful Veterans committee within the history of the United Auto Workers union.

Ron wanted to step away to provide opportunities for younger workers and retired from Harrison Radiator in 1995. You would think that all of the above was enough for any one person, but no, Ron has continued to be a community and union activist and during the 1990s helped to write the Living Wage Law for the City of Buffalo. This law has impacted the lives of thousands of citizens living and working in the City of Buffalo. Ron was busy in the 1990s and was instrumental with the Vietnam Veterans' Chapter 681, in opening the first Residential Post Traumatic Stress Clinic in Western New York.

In October 2001, in recognition of his work with the United Auto Workers, Ron was elected to the United Auto Workers Hall of fame. In May of 2002, Ron had a large leadership role in the "Day of Honoring Event" that honored the minority service people of World War II. At last these veterans received their long overdue decorations. In 2006, Ron was appointed by the federal government to be the Veterans Administration Volunteer Services Representative for Western New York.

Ron is a member of at least thirty-five community groups. One of his favorites is the Niagara Military Affairs Council (NMAC). In 2005, the Niagara Falls Air Force Base was placed on the Department of Defense closing list. Ron and the NMAC were instrumental in saving this base along with 1000 jobs impacting the Western New York economy. In 2006, Ron's efforts to support veterans resulted in the Women's Residential Clinic, in Batavia, New York, to provide support for female veterans suffering from PTSD. Plans are currently underway to build a larger clinic which is scheduled to have a ground-breaking in 2011 and open in 2012. He has also worked to establish the "Women's" Military Support Network of Western new York to assist women veterans at the Batavia and Buffalo Veterans Hospitals.

In September 2008, Ron's Veteran Affairs Group of Buffalo's Black Chamber successfully introduced into legislation, the Veteran's Cold War Act. This law allows all honorably discharged veterans, who served between September 2, 1945 and December 26, 1991 to receive property tax reductions. They served this country and should not be forced to leave their homes. This act has also been extended to Erie County Veterans, thanks to Ron's advocacy.

Ron actively volunteers in other numerous community programs serving veterans; including annual clothing and fund raisers through the UAW Veteran's Committee. Annually, he also assists with a 5k Run to raise funds for the VA Hospital patients in Batavia, Bath and Buffalo.

In 2009, Ron was instrumental in the opening of a veteran's section in Elmlawn Cemetery in Tonawanda, New York. The following year, his work resulted in the reconstruction of "Veterans Monument" at Northland and Grider Streets in Buffalo. He has also advocated bringing the National Veterans Cemetery to Buffalo and the Western New York area by 2012. The closest federal veteran's cemetery at this time is located in Bath, New York, more than one hundred miles away.

Ronal and his wife Julia currently reside in Niagara Falls, New York. Ron is a father of eight children and numerous grandchildren. Ron is a living example of "the apple not falling far from the tree". He is the father of a 2000 Black Achiever in Industry Honoree and Uncrowned Queen, Joyce Wilson Nixon, NICYO Executive Director/CEO and proud sponsor of her father for the 1490 Community Organization's Black Achiever in Industry Honoree for 2008.