Edit Current Bio
UCB is written collaboratively by you and our community of volunteers. Please edit and add contents by clicking on the add and edit links to the right of the content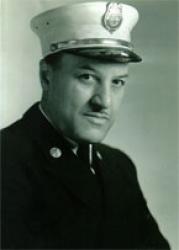 Born on 3-29-1916. He was born in Barnesville, Georgia.
Basic Info
Attachments
Relations
Organizations
Accomplishments
Schools
Employers
Robert B. Howard Jr. was born on March 29, 1916 in Barnesville, Georgia to Robert and Annie Howard. He had one brother Keith L. Howard. When Robert was one year old, his family moved to Chattanooga, Tennessee. The family relocated to Tonawanda, New York when Robert was six years old. He attended Hardin elementary School in the Town of Tonawanda and graduated from Kenmore High School in 1934. He attended Buffalo Collegiate Center for two years.

Robert worked on a cruise ship, the Juniata, as a bell hop during the summer of 1935, while he was still attending the Collegiate Center. He also worked as a receiving clerk at the Buffalo Artistic Upholstering Company for a year and at Semet Solvay Company for seven years, from 1937 to 1943.

Robert first attempted to enter the police academy, but then turned his attention to the fire department and got his start on a prosperous career. On June 16, 1943, Robert made history as the first African American appointed to the Buffalo Fire Department. He was assigned to Truck 3, located at 308 Spring Street.

During his long, distinguished career in the Buffalo Fire Department, Commissioner Howard received numerous promotions that resulted in increasing responsibility. On July 1, 1951, he was promoted to Junior Captain (the rank is now called lieutenant) and remained at Truck 3. In 1960, he was promoted to Captain and reassigned to Engine 26 at Tonawanda Street and Progressive. On January 1, 1966, Mr. Howard again made history when he was appointed Commissioner of the Fire Department by Mayor Frank Sedita. He retired on March 31, 1973 after thirty years of service. However, he continued to be involved in organizations involving firemen.

He was elected to the Board of Directors of National Fire Protection Association (NFPA) in May, 1972 and a year later joined the staff of that organization as Chief Fire Service Specialist. He was named Field Service Representative of the NFPA on January 1, 1974. He is an Honorary Life Member of several voluntary fire departments in New York State and a life member of Erie County New York Fire Chiefs Mutual Aid Association. His other memberships included, the New York State Fire Chiefs Association, Fire Chiefs Association of Massachusetts, Advisory Committee New York State Civil Service Commission and Board of Directors of the Salvation Army of Boston.

Commissioner Howard held a Board membership and was the chairman of the Public Relations Committee of the Buffalo Fire Department Officers Association. He was also the secretary and member of the board of the Metropolitan Committee of the International Association of Fire Chiefs, a member of the Joint Council of National Fire Service Organizations, and a member of the Fire Officers Qualifications Standards Committee.

In addition to his many other board memberships, Commissioner Howard was an active community volunteer, serving on the Canisius College Board of Regents, Emergency Hospital Board of Governors, Western New York Burn Treatment Center, Inc., National Conference of Christians and Jews (Buffalo affiliate), Salvation Army Board, Buffalo Goodwill Industries, Inc., Comprehensive Health Planning Council, Western New York, Task Force Committee for Child Abuse, Columbian Retreat League, Downtown First Friday Club, Buffalo Yacht Club (honorary member), Our Lady of Charity Refuge Home, Brothers of Mercy Sacred Heart Home, Chamber of Commerce -- Boost Buffalo Committee, Diocesan lay Advisory Committee, Niagara Frontier Council of Boy Scouts of America and the Rotary Club of Boston.

He also was a member of St. Gregory the Great Parish, a member of St. Gregory the Great Parish, a member of Council #184 Knights of Columbus, 4th degree and also and a member of the Diocesan Pastoral Council.

Commissioner Howard and his wife Irene W. Battle Howard married in May of 1938. She was born in Pikes County, North Carolina. They have one daughter, Jean and two grandchildren.