Edit Current Bio
UCB is written collaboratively by you and our community of volunteers. Please edit and add contents by clicking on the add and edit links to the right of the content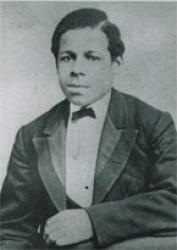 Born on 10-26-1851. He was born in Lewistown, PA.
Basic Info
Attachments
Relations
Organizations
Accomplishments
Schools
Employers


Peter W. Barnes was born on October 26, 1851 in Lewistown, Pennsylvania. He was the youngest of five children of Henry, a former slave from Hagerstown, Maryland and Jane Williams Barnes of Little York, Pennsylvania. Henry Barnes died on April 22, 1856 and Jane died June 11, 1859.

Sometime after the death of his parents around 1859, Peter's uncle Peter Williams came from Brooklyn to take Peter, his brother Thomas H., the only surviving child of Henry and Jane and their grandfather Daniel Williams to New York City. Peter and Thomas were placed in the Colored Orphan

Asylum on fifth Avenue which was run by three Quaker ladies, Miss Anna M. and Hannah Shotwell and their niece, Miss Mary Murray.

On Monday, July, 13th, 1863 the Colored Orphan Asylum was set fire by a roving white mob during the New York City Draft Riots. There were 233 children in the orphanage. All but one girl escaped the fire. The building and all of the contents were destroyed.

Sometime between 1879 or 1880 Peter settled in Olean, New York along with his brother Thomas, sister in-law Mary and their three children. Peter never married nor had any children. He was employed as a cook at a hotel. He died in Olean on August 16, 1884 at the age of 34 of consumption of the lungs. He was buried at Oak Hill Cemetery. About 1905 all bodies were moved from there and relocated at Mt. View Cemetery in Olean, New York. On August 3, 2002, the Barnes descendents planted a tree In Memory of Peter Barnes at Franchot Park in Olean, New York.

The Olean newspaper on September 13, 1984 wrote this obituary which they took from an Indianapolis newspaper.

Peter Williams Barnes

We noted recently the death in this city of P.W. Barnes, brother of Tommy Barnes, Oleans popular colored barber. The young man, who was taken away at the age of 32 was a young man of more than ordinary capabilities. An Indianapolis paper of a recent date contained the following obituary sketch of his life, which cannot fail to interest many Olean people:

Mr. Barnes was born in Lewistown, Pa. in 1852, and was the son of Henry and Jane Barnes, highly respected residents of that city. At an early age, he was left an orphan when he and his brother, T.H. Barnes (between them ever rested a sweet and rare affection) were taken to Brooklyn, N.Y. Here they found a welcome home with their uncle and aunt, Mr. and Mrs. Peter H. Williams and were both educated in the same institution. At an early date, he evinced great mechanical and inventive genius making many things that gave promise of great future should he live. A slight impediment in his speech prevented him from reciting his lessons when learned and this rendered it difficult for him to acquire a scholastic training. Finding it impossible to readily express himself, it was determined to give him a trade where his difficulty need not interfere. He was apprenticed to one of the leading French cooks at the Congress Hotel, Albany, NY, where through the kindness of the proprietor Mr. Adam Blake he soon obtained a good position. He has from time to time filled important places in the leading hotels of this country.'

During all this time he did not cease to continue his mechanical studies, and invented and had patented many useful and valuable inventions from which, had he lived, he could have derived much celebrity and wealth. Among them can be mentioned a patent street sweeper that not only swept the street but took up and carried the dirt at the same time; an automatic fire escape with original safety shields and landings; automatic gates, locks and like all inventors was deeply interested in perpetual motions. His disease seemed to quicken his intellect and in the stages the impediment of speech left him, and his interest in the fellows of this brain was marvelous. His early death has nipped all the bright promises of his youth and the hopes relations and friends. He was very gentle and patient in his illness, and the love and affection between the brothers was well and fully demonstrated then. He was not only willing but anxious to end his sufferings. Such is life! Those who could be an ornament and credit to their race, those who by their brain could lift up the colored race to an equal intellectual footing with their white fellow man is seemingly the ones who are called early in life to join the great problem of eternity.

The Fire-Escapes patent #142,141 was filed July 26, 1873 and the Specifications of Patent appears in the 1873 Patent Book located at the Buffalo, New York downtown library. Patent books 1875, 1877,1884 are missing in library. The patent office did have a fire in 1884.

In the 1870 census, Peter is living in Albany, NY, occupation cook.

Arika Easley provides this piece of information (4/13/2004): Peter Barnes was sent back from the orphanage to live with an aunt when he was about 12. Record said that all board was paid at that time. This aunt may have been the wife of Peter Williams living in Brooklyn.