Edit Current Bio
UCB is written collaboratively by you and our community of volunteers. Please edit and add contents by clicking on the add and edit links to the right of the content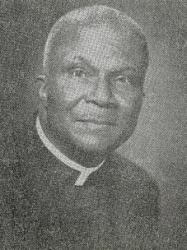 Born on 11-19-1883. He was born in Jamaica, . He was accomplished in the area of Religion. He later died on 12-22-1961.
Basic Info
Attachments
Relations
Organizations
Accomplishments
Schools
Employers
Dr. Osmond H. Brown was a recognized leader in Buffalo, a worker for the improvement of race relations and an adviser to persons of many races and faiths. In 1956 upon his retirement as rector of St. Philip's Episcopal Church after 33 years of service, he was the guest of honor at a testimonial dinner attended by more than 300 persons in Kleinhans Music Hall. He was named rector emeritus of St. Philip's after his retirement. In 1950 he was appointed as an honorary canon of St. Paul's Cathedral. He was the first African American clergyman to be so honored in the history of the Episcopal Church in America.

Father Brown worked tirelessly in the community to increase understanding among all people. He believed that desegregation would come about gradually, as a result of human understanding and not as a result of force. He was named an Outstanding Citizen of Buffalo by the Buffalo Evening News in 1956. He was honored for "his work in teaching his people their civic responsibilities and how to become good citizens." In 1957, he was given the third annual Award of Merit of the Katherine Pratt Horton Buffalo Chapter of the Daughters of the American Revolution.

Dr. Brown was also active in the United Negro College Fund drives, the Michigan Avenue YMCA and the Ministers Alliance of Buffalo & Erie County. He was grand chaplain of the Most Worshipful Price Hall Grand Lodge of New York State and a member and past chaplain of St. John's Lodge 16, F & AM. He was also a member of Alpha Phi Alpha Fraternity.

He was born in Jamaica, British West Indies on November 19, 1883. He attended Howard University in Washington, D.C., Oskaloosa College in Iowa and City College in New York City. He received his Bachelors of Divinity degree in 1916 from General Theological Seminary. After his ordination, he served in several churches, in Elizabeth, New Jersey and Hartford, Connecticut before coming to Buffalo in 1923. He also attended Foundation School of Religious Education in Hartford, Connecticut where he earned a master's degree of pedagogy. His honorary doctor of divinity degree was conferred in 1930 by Hood Theological Seminar of Livingstone College, Salisbury, North Carolina.

Dr. Brown was married to Mary H. Nichols, who died in 1914. He remarried in 1946 to the former Grace L. Fisher. With his first wife, he had three sons. Dr. Brown presented his son, Osmond H. Brown Jr. for ordination in the Episcopal Church in 1951. He had two other sons, Dr. Allen N. Brown, MD and John D. Brown.

He died on December 22, 1961 and is buried at Forest Lawn Cemetery in Buffalo, New York.