Edit Current Bio
UCB is written collaboratively by you and our community of volunteers. Please edit and add contents by clicking on the add and edit links to the right of the content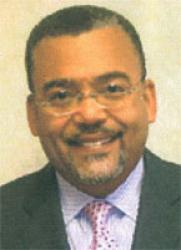 He was born in Brooklyn, New York.
Basic Info
Attachments
Relations
Organizations
Accomplishments
Schools
Employers
Mark Gaston Pearce has dedicated his legal career to the practice of labor and employment law. Born in Brooklyn, New York of Jamaican heritage, Mr. Pearce was raised in a home where the importance of education was stressed. He went on to graduate Cornell University and State University of New York at Buffalo School of Law where he met his future wife and mother of his daughter. He started his legal career as an attorney and district trial specialist with the Buffalo office of the National Labor Relations Board. His practice led him to become a partner at a major Buffalo law firm, before joining with Catherine Creighton, Jonathan Johnsen and E. Joseph Giroux to form Creighton, Pearce, Johnsen and Giroux, www.cpjglaborlaw.com a law firm representing unions, professionals, public and private sector employees in all matters involving employment and labor relations. He is also adjunct faculty at Cornell University School of Industrial Labor Relations and is a member of Cornell Adjunct Faculty -Upstate, New York State United Teachers Local # 37-950 an affiliate of American Federation of Teachers (AFL-CIO). He has lectured and given Continuing Legal Education presentations for the American Bar Association, New York State Bar Association, the AFL-CIO, Cornell University and the National Labor Relations Board.

Mr. Pearce serves on the Committee on Character and Fitness for the State of New York Supreme Court Appellate Division Fourth Judicial Department and served as an appointee of Chief Judge Judith S. Kaye on the NYS Office of Court Administration Commission to Examine Solo and Small Firm Practice. In May of 2007 Mr. Pearce was appointed by NYS Governor Elliott Spitzer to the Commission on Increasing Diversity in the State Government Workforce.
Mr. Pearce has served on the Board of Directors of the Lawyers Coordinating Committee of the AFL-CIO and regularly trains summer associates in its Minority Outreach Program. He served as president of the Volunteer Lawyers Project Inc., the Minority Bar Association of Western New York, and Housing Opportunities Made Equal. He is currently on the board the Coalition for Economic Justice, the WNY Workforce Investment Board, the Advisory Board of the Labor and Employment Relations Association of Western New York, Buffalo Arts Studio, the Erie County Bar Foundation and the Council of the Burchfield-Penney Art Center.
Mr. Pearce is also an accomplished oil painter having exhibited in HOPE & HONOR, NEW PAINTINGS BY MARK PEARCE, Buffalo Arts Council February 6 - March 28, 2002; MAKING THE CONNECTION â?? Collaboration of the WNY Martin Luther King Jr. Commission-Theodore Roosevelt Inaugural Site-The Burchfield Penny Art Center -January 29 â?? February 20, 1999; EXHIBITION OF LOCAL AFRICAN AMERICAN ARTISTS; Ikenga Gallery, 1993 and the Bread & Roses Exhibition of 1199 Health Care Employees Union.
Mr. Pearce has received the Minority Bar Association of WNY Legal Service and President's Awards; the 1490 Enterprises of WNY Black Achiever in Industry award; special recognition from the Buffalo Chapter of the Coalition of Black Trade Unionists; the Coalition for Economic Justice Rev. Robert Beck Award and the Communications Workers of America, WNY Council Eugene J. Mays Citizenship Award and Millennium Father Award from the Alpha Kappa Alpha Sorority, Gamma Phi Omega Chapter. Mr. Pearce is a class of 2000 graduate of Leadership Buffalo. Mr. Pearce is a volunteer story hour reader at Charles Drew Science Magnet School and is a member of St. Philipâ??s Episcopal Church serving as acolyte master Licensed Eucharistic Minister and former Churchwarden. He also served as chair and presiding judge of the Ecclesiastical Court of the Episcopal Diocese of WNY. Mr. Pearce and his family reside in the city of Buffalo.