Edit Current Bio
UCB is written collaboratively by you and our community of volunteers. Please edit and add contents by clicking on the add and edit links to the right of the content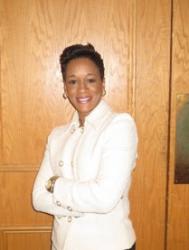 She was born in Buffalo, NY. She is accomplished in the area of Healthcare.
Basic Info
Attachments
Relations
Organizations
Accomplishments
Schools
Employers
Kimberly Backey is the Director of Community Collaboration for Millennium Collaborative Care (MCC), a Performing Provider System (PPS) affiliated with the Erie County Medical Center (ECMC). She has over twenty years of experience in program management, supervision, and leadership. In her current role, Kimberly is fiscally and administratively responsible for the overall management of evidenced-based health and wellness programs across the eight counties of Western New York (WNY). This includes Allegany, Cattaraugus, Chautauqua, Erie, Genesee, Niagara, Orleans, and Wyoming counties. She also creates and implements new initiatives targeted at improving the lives of community members across WNY.

Through Kimberly's dedication of igniting healthcare change in Western New York, she was chosen to be part of the Medicaid Redesign Team, a statewide initiative championed by New York State Governor Andrew M. Cuomo. The team's goal is to fundamentally restructure the Medicaid Health Care Delivery System and reduce avoidable hospital admissions by 25% over a five-year period. Additionally, Kimberly oversees several key projects as part of the New York State Delivery System Reform Incentive Payment (DSRIP) Program, which focuses on healthcare system transformation, clinical improvement, and population health.

Kimberly is responsible for developing, leading, and implementing strategies to deliver project initiatives to clinical and non-clinical partner organizations including hospitals, primary care offices, as well as community and faith-based organizations. Kimberly creates and develops baseline reporting and measurement metrics for partner organizations. She also ensures that clinical and non-clinical partners receive comprehensive professional health education trainings. In addition to these responsibilities, Kimberly coordinates with partner organizations to assist with workplan development targeted at improving health disparities within the WNY community.

Kimberly has managed an annual budget of more than $17 million in fiscal contracts and educational partnerships, and under her Executive Director Leadership's role, led a nonprofit organization to receiving a Quality Assurance Certification for quality improvement and excellence in service delivery.
Kimberly has received significant recognition for her hard work and dedication in her professional life. The New York State Department of Health awarded her with the Integrity, Fiscal and Budget Reporting, and Program Excellence Award. In addition, she was also honored with the Women Touching the World Award by Unlimited Possibilities Overcoming Poverty Ministry Inc, for her exemplary leadership, professionalism, and community service. Kimberly was a commencement speaker for SUNY Empire State College and has conducted various professional and development workshops for SUNY Empire State College.

Kimberly formerly served as a board member of the Buffalo Branch NAACP and the Flower Garden Child Care International Inc. Kimberly is also a member of the Alpha Kappa Alpha Sorority Inc.; Phi Gamma Omega Chapter, Buffalo Chapter of the Links Inc., National Black MBA Association, and the National Association of Women MBAs.

Kimberly is a native of Buffalo, New York and graduated from the University at Buffalo with an Executive Master of Business Degree, specializing in Management. She also holds a Bachelor of Science in Business Administration and a Certificate in Accounting. Kimberly is currently enrolled at D'Youville College and is on track to earn her Advanced Certificate in Health Care Administration, with the goal of becoming a Licensed Administrator in the Health Care System.

In her personal life, Kimberly is an avid runner, with over twelve completed half and full marathons to date. In her spare time, Kimberly volunteers to teach community members how to run. Kimberly is a proud mother of two children, Ebony and Jamaal, and enjoys spending time with her two grandchildren. Her daughter Ebony is a Mechanical Engineer with Six Sigma Black Belt Certification, and Jamaal is a graduate of Lindenwood University.