Edit Current Bio
UCB is written collaboratively by you and our community of volunteers. Please edit and add contents by clicking on the add and edit links to the right of the content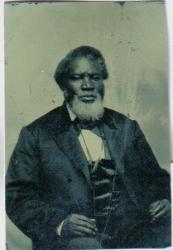 He was born in VA. He was accomplished in the area of Community. He later died on 3-20-1886.
Basic Info
Attachments
Relations
Organizations
Accomplishments
Schools
Employers
John, also known as Eugene, was born into slavery but obtained his freedom in 1837. It is said that he was involved in the great gold rush of 1849. He was a barber. He settled in Buffalo, New York with his wife Prudence. Simpson was one of the founders of East Presbyterian Church in 1850. When that church dissolved, he co-founded St. Philip's Episcopal Churh and was one of it leaders until is death.

His daughter, Frances became one of the first Black school teachers in Buffalo at the segregated Vine Street African School.