Edit Current Bio
UCB is written collaboratively by you and our community of volunteers. Please edit and add contents by clicking on the add and edit links to the right of the content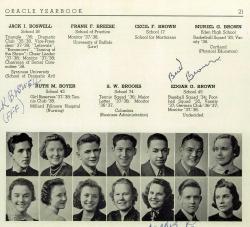 He was born in Buffalo, NY. He was accomplished in the area of Politics. He later died on 1-23-1962.
Basic Info
Attachments
Relations
Organizations
Accomplishments
Schools
Employers
Mr. Brown, better known as F. Cecil Brown was the son of Charles and Alice Brown. His parents were natives of Jamaica and immigrated in 1913. Cecil was born circa 1918. He attended Buffalo Schools and graduated from Lafayette High School.

Mr. Brown was a noted funeral director in Buffalo. In 1960 he was elected the first Black member of the Erie-Niagara Funeral Directors Association. He owned and operated Brown's Funeral Home on East Utica Street. He was the first Negro ever elected on any Board of Funeral Directors in the State of New York. His election to the Funeral Directors' Association was significant in that the National Association of Funeral Directors barred Black membership at that time.

Mr. Brown was also active in politics. He was elected as the 12th Ward Supervisor in the Erie County Board of Supervisors where he served 6 years. He was the first African American ever nominated to by chairman of the Board but fell one vote shy of gaining the seat. He had been reelected to this position about a year before his untimely death at the age of 43.

Mr. Brown was an active community member, who served on many organizational boards, including: The Humboldt YMCA, the United Negro College Fund, the Community Interest Club, the NAACP, and Big Brothers Club of the Working Boys Home. He also was a member of the Masten District Democratic Club and the Cold Spring & Jefferson-Utica Businessman's Association. He was a trustee of Our Savior Lutheran Church.

He was married to Consuelo Brown and the couple had two children, Cecil and Gregory Keith.

He is buried in Forest Lawn Cemetery.