Edit Current Bio
UCB is written collaboratively by you and our community of volunteers. Please edit and add contents by clicking on the add and edit links to the right of the content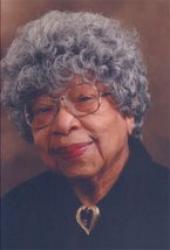 Basic Info
Attachments
Relations
Organizations
Accomplishments
Schools
Employers
Eva Lou Boyd is the oldest of eight children born to Dallas Andrew and Hattie Lavonia Gallimore. Her parents were avid believers in education and encouraged their children to set goals and work to achieve their goals. They worked to send six children to college and earn a degree. Her parents also instilled within them the moral values of honesty, fair play, integrity, and consideration for others. Her mother and father were devout Christians and the principles of Christian religion were evident in their home.

Eva Boyd attended elementary and high school in Okmulgee and graduated from Dunbar High School. Her father purchased a piano for the family while she was in elementary school and she began taking piano lessons. As she progressed in playing the piano she was able to teach her younger sister, Zenobia, as well. Mrs. Boyd later became a music teacher and organist for her church. During this period of her development, her father's greatest joy came when the family gathered in the living room to sing hymns as well as some of the popular songs of that day. The most important thing in her life, according to her mother, was studying and practicing her music for an hour before and after school. In high school she particularly enjoyed English, history, drama, and music. She was a member of the school orchestra, mixed choir, girl's sextet, and drama club.

Upon completion of high school, it was Eva's greatest desire to pursue music as a career. She wanted to enter Oklahoma University's Music School but it was not possible at that time because of segregation. Eva was offered a scholarship and enrolled in the Detroit Conservatory of Music and earned a Bachelor of Music degree, with a major in piano and a minor in voice and theory. After graduation from college, she participated in a contest with sixty piano students and was one of five students to receive a scholarship to study in the master classes at the Chicago Musical College. She did further study at the University of Kansas and at Northwestern University in Evanston, Illinois. She was honored to sing with the Northwestern Concert Choir and to be chosen as one of the four National Baptist Convention pianists for their annual meeting in Detroit, Michigan, in 1927. She was thrilled to work for eight weeks under the direction of the noted composer and conductor, Edward H. Boatner as he worked with and conducted the convention's one-thousand voice choir.

Mrs. Boyd began teaching in Chickasha, Oklahoma under the principal ship of Goodwin Parrish and established a music program for students in grades one through twelve. Under the auspices of ONAT (Oklahoma Association of Negro Teachers), music teachers of the state organized a vocal music festival, composed of four districts. Eva Boyd was asked to organize the Southwest District composed of fourteen high schools, and to direct the State Festival Chorus. Each year her students entered music competitions and were awarded numerous medals and awards for their accomplishments.

Throughout the years Mrs. Boyd has served as president of the State Choral Festival, Southwest District Festival, Chickasha Classroom Teachers, Grady County Retired Teachers, and MacDowell Music Club. She is also a member of the Alpha Kappa Alpha Sorority, Incorporated where she has served on the music committee for many years.

After forty-three years of teaching Eva continued to serve others. She served as a volunteer at Grady Memorial Hospital and provided cheer at five local nursing homes with her musical talents.

Most recently, Eva Boyd was given the privilege of being asked to perform a number with the internationally known pianist, Dino, and was given a standing ovation by those in attendance.

She continues to enrich the lives of others by playing in her church, teaching piano to young and old, offering encouraging words of wisdom, and is a daily inspiration to those with whom she comes in contact.