Edit Current Bio
UCB is written collaboratively by you and our community of volunteers. Please edit and add contents by clicking on the add and edit links to the right of the content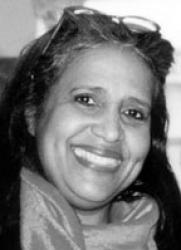 Born on 11-4-1951. She was born in Guantanamo.
Basic Info
Attachments
Relations
Organizations
Accomplishments
Schools
Employers
Eunice Ashman was born on November 4, 1951, in Guantanamo, Cuba. She is the fourth of six children born to Washington and Lena Ashman. The family migrated to the United States in 1967. Eunice earned a Bachelor of Arts degree in Sociology from Marymount Manhattan College in New York City before moving to Buffalo in 1976. She obtained a Master's degree in American and Puerto Rican Studies in 1978, and a Master's degree in Educational Administration in 1989, both from the University at Buffalo.

Eunice volunteered at Buffalo Catholic Charities in 1976, before being employed there for three years as a Social Worker. She then obtained a position with the Erie County Department of Social Services in the Division of Child Protection. For the past twenty-one years, she has been employed as a Bilingual Social Worker for the Committee on Special Education at the Buffalo Board of Education. She is particularly concerned about our youth, the leaders of tomorrow, and about the downtrodden in our society.

Eunice has a passion for service and the sum total of her activities, past and present, reflects her deep commitment to our community. She serves on several Boards of Directors including Roswell Park Alliance, Founding Member Issues Committee and Speakers Bureau; Canisius College, Board of Regents, Trustee; Western New York Public Broadcasting Association, Trustee; The Buffalo Seminary; The Commission on the Status of Women, Commissioner; American Red Cross, Greater Buffalo Chapter, Hispanic Outreach Committee, Chair; Buffalo Urban League, Gala 2001 and 2002 Chair and Scholarship/Development Committee, Chair; Vestry, St. Philip's Episcopal Church, Endowment Committee, Chair; and the Niagara Frontier Transportation Authority, Commissioner. She also has held board positions with the Erie County Cultural Resource Advisory Board; YWCA of Western New York; Greater Buffalo Opera Company, Ball Chair (1992, 1993); Zoological Society Board; Buffalo Prep, Board Vice-Chair, Cotillion Chair (1998), and first graduating class Celebration of Achievement, Chair (1994, 1995); Roswell Park Alliance, Tree of Hope, Chair; All Star Night, Chair; Herd About Buffalo, Steering Committee; The Arts Council of Buffalo and Erie County, Nominating Committee; and the Clarkson Center, Courage to Come Back Awards, Selection Committee.

In addition, Eunice is a member of the Erie County Chapter of The Links, Incorporated and the Hispanic Women's League. In 1994, she was honored for her civic contributions at the Ebony and Ivory Ball. She also was inducted into The Western New York Women's Hall of Fame on March 14, 2002. The Women's Hall of Fame "honors those women in perpetuity who have worked in a public spotlight, as well as those who have quietly enriched the community and inspired others."

Eunice is married to Dr. A. Norman Lewin, a heart surgeon at Kaleida Health and a Director on its Board of Directors. They are the parents of two daughters, Elizabeth Maria and Eva Michelle.