Edit Current Bio
UCB is written collaboratively by you and our community of volunteers. Please edit and add contents by clicking on the add and edit links to the right of the content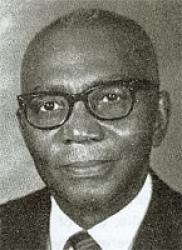 He was born in Louisville, KY. He was accomplished in the area of Religion. He later died on 2-19-1982.
Basic Info
Attachments
Relations
Organizations
Accomplishments
Schools
Employers
A native of Louisville, Kentucky and a 1930 graduate of Hood Seminary at Livingston College in Salisbury, North Carolina, Reverend Derrick M. Byrd, Sr. served as a clergyman for nearly 50 years.

Rev. Byrd earned a Bachelor's degree from Livingston College in Salisbury, North Carolina. In 1932, he completed ministerial studies at the Hood Seminary in Salisbury, as well.

Reverend Byrd came to Buffalo, in 1936, to serve as pastor of the St. Luke A.M.E. Zion Church, located at Eagle and Michigan Avenue. He had just completed six years as minister of the St. James A.M.E. Zion Church in Ithaca, New York. On July 3, 1938, Reverend Byrd founded the Peoples Community Church with 35 members, at 472 Swan Street, which he pastored for 44 years until his death. The church later joined the United Church of Christ fellowship. He was the chairman of the National Convention of Gospel Choirs and Choruses, founded by Dr. Thomas A. Dorsey.

In addition to his ministerial commitments, Reverend Byrd was instrumental in the establishment of the Ellicott Redevelopment Foundation. He served as President of the Board of Directors of Towne Gardens, Ltd. Twenty years previously Reverend Byrd had been among the promoters of the J.J. Allen department store at William and Emslie Streets. J.J. Allen was one of the first black operated corporations in the city of Buffalo. Reverend Byrd also served as a partner in the Frontier Cab Company, located at Walnut and William Street and the Busy Bee Luncheonette.

During World War I, Reverend Byrd served as a member of the U.S. Medical Corps in the 804th Pioneer Squadron in France. Reverend Byrd was also a member of the Improved Benevolent Protective Order of the Elks of the World, serving as Assistant Grand Chaplain, as State Chaplain and as General Chairman of the Grand Lodge Conventions held in Buffalo in 1946 and 1951. In addition, he was a member of Paramount Lodge #73 of the Prince Hall Masons, of the Omega Psi Phi Fraternity and served as the Chairman of the Board of Trustees of the National Convention of Gospel Choirs and Choruses, Inc. for many years.

Rev. Byrd's parents were Alexander and Lucinda Latson Byrd. He was married for 48 years to the former Pauline Winifred Huff, an Uncrowned Queen. The Byrds had two sons, Derrick M. Jr. and Reverend Dr. Cameron W. and six grandchildren, Cameron, Jr., Brian, Kahlil, Jeannine, Pamela and Derria.

Reverend Byrd died on February 19, 1982 at the age of 89. He is interred in the Oakwood Mausoleum at Forest Lawn Cemetery.