Edit Current Bio
UCB is written collaboratively by you and our community of volunteers. Please edit and add contents by clicking on the add and edit links to the right of the content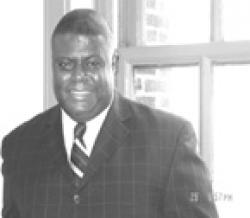 He was born in Buffalo, NY.
Basic Info
Attachments
Relations
Organizations
Accomplishments
Schools
Employers
Rev .Chris William Brown JR was born and raised in Buffalo New York and is a product of the Buffalo School System. He serves as an Associate Minister and Sunday School Teacher at St.John Baptist Church where Rev. Dr. Michael Chapman is the Pastor.

He is currently employed as the Executive Director for Samaritan Pastoral Counseling Center. He oversees the centerâ??s daily operations and fifteen satellite offices in both Erie and Niagara County and supervises a staff of fifteen counselors.

He is the first Executive Director of color in the Centerâ??s 50 year history and the only one of color in the United States and Japan among other Samaritan Centers. From 1988 to 1996 Rev. Brown served as the Program Coordinator for Bailey Delavan Community Services After-School Youth Program. This program provided area school age children with tutoring, arts & crafts, basketball, counseling and college prep classes.

Rev. Brownâ??s other past positions have been Program Coordinator for Geneva B. Scruggs Family Support and Comprehensive Medicaid Case Management Programs, Mental Health Counselor for Buffalo General Hospitalâ??s Day Treatment Program,
Executive Director for Bailey Delavan Community Services where he spearheaded a petition drive to have the new community center on Genesee Street, named after past Common Council President George K .Arthur.

He has also worked as an Intake Worker and Night Supervisor for the Erie County Juvenile Detention Center; Director of the Buffalo Lighted School House Program; AIDS Counselor for AIDS Community Services; Paralegal for Neighborhood Legal Services Housing and Public Benefits Law Department; Mental Health Specialist for Baker Victory Boys Home and a Job Readiness Trainer for Greater Buffaloâ??s Welfare to Work Program.

Rev. Brown also currently serves as a Chaplin for the Western New York Childrenâ??s Psychiatric Center. In February of 2004, Rev. Brown was nominated by Governor George Pataki and confirmed by the New York State Senate and Assembly to serve as a member of the New York State Advisory Counsel on Alcoholism and Substance Abuse.

In 1984, he was inducted into Whoâ??s Who in American Universities and Colleges and in 1997, he received the community service award from the National Association of Negro Business and Professional Black Women.

In 1987, Rev. Brown received a bachelorâ??s degree in Criminal Justice from Buffalo State College. While at Buffalo State College, he was a member of the football and J.V. basketball teams and was a United Studentsâ?? Government Senator and College Senate Senator as well as R.O.T.C. cadet. He is also a member of Alpha Phi Alpha Fraternity, Rho Lambda and Paramount Lodge #73 of Free and Accepted Masons.

In 2004, Rev. Brown received a certificate in Christian Ministry from Houghton College. He received his Masterâ??s degree in Mental Health Counseling from Medaille College in December 2007. Currently he is pursuing his Doctorate in Ministry degree from Faith Evangelical Seminary.

Rev. Brown and his wife Dawna along with there two children Chris III and Camrin reside in Buffaloâ??s Judges Row community on the border of Buffalo and Cheektowaga.

Rev. Brownâ??s motto for life is â??To God Be The Gloryâ?