Edit Current Bio
UCB is written collaboratively by you and our community of volunteers. Please edit and add contents by clicking on the add and edit links to the right of the content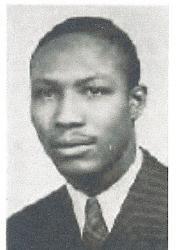 Dr. Charles David Bull, II MD
Born on 2-5-1919. He was born in Columbia, SC. He was accomplished in the area of Healthcare. He later died on 3-23-1983.
Basic Info
Attachments
Relations
Organizations
Accomplishments
Schools
Employers
Dr. Charles D. Bull was a graduate of the 1940 class at Lincoln University. At Lincoln, he was a biology major. He was also a member of Alpha Phi Alpha Fraternity. He served as the sports editor of the college newspaper, the Lincolnian. He also was a member of the library staff and played intermural basketball and football.

Dr. Bull received his M.D. degree from Howard University Medical School. After an internship in obstetrics at Homer G. Phillips Hospital in St. Louis, he took a residency at Mercy Douglass Hospital in Philadelphia and the VA Medical Center in Buffalo, where he moved in 1957.

In 1960 he joined the faculty of SUNY Buffalo School of Medicine as clinical associate in medicine and was cited in 1982 for long and outstanding service to the University. During his many years on the staff of Deaconess Hospital, he served a term as chief of staff. He was also on the staff of the Buffalo General Hospital.

Dr. Bull died March 23 in the New Rochelle Hospital Medical Center after a lengthy illness. He is survived by his wife, a son, three daughters, and three grandchildren.

Dr. Bull is buried in Forest Lawn Cemetery in Buffalo, New York. Also buried there is Charles David Bull III, apparently Dr. Bull's son. Charles III was born in 1949 and died on December 7, 1988.