Edit Current Bio
UCB is written collaboratively by you and our community of volunteers. Please edit and add contents by clicking on the add and edit links to the right of the content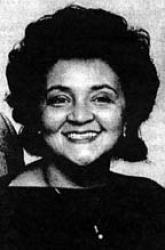 Born on 4-1-1937. She was born in Buffalo, NY. She was accomplished in the area of Community. She later died on 8-18-2002.
Basic Info
Attachments
Relations
Organizations
Accomplishments
Schools
Employers
Arlene G. Robinson Olden was a native Buffalonian, who was born on April 1, 1937. Her parents were the late Harold and Gladys (Norwood) Robinson.

Arlene graduated from Buffalo Public School #47 and East High School. After graduation, she attended E.J. Meyer Memorial Hospital School of Nursing and Millard Fillmore College. She worked at the Buffalo Psychiatric Center and for the Buffalo Board of Education until 1975. Following a period of time during which she worked with her husband Frank, she returned to work with the Federal Civil Service Department as an examiner.

Arlene and Frank were married in 1963. She was the proud and devoted mother of son Kent, and grandmother of Kent, Kyle and Kendra. Her family and friends describe her as a meticulous and hard worker, who was never too busy to give help and encouragement to all who needed it.

She was an accomplished seamstress, avid reader and traveler. Arlene was an active member of Metropolitan United Methodist Church, where she served on the Disciples Usher Board.

Arlene was the great-grandniece of Harriet Tubman and worked tirelessly to honor the memory of this African American heroine. As one of the founding members of the Harriet Tubman 300's, Arlene was instrumental in many of the accomplishments of this group, including: placing historical markers at Broderick Park and the Michigan Avenue Baptist Church to mark the Underground Railroad. The organization also was responsible for getting a section of Michigan Avenue renamed "The Harriet Tubman Way" and for the planting of a memorial tree on Harriet Tubman Way. Arlene served as president of the club for two years. She received countless commendations from the city and other organizations in recognition of her work.

Mrs. Olden is buried at Forest Lawn Cemetery in Buffalo, New York.