Edit Current Bio
UCB is written collaboratively by you and our community of volunteers. Please edit and add contents by clicking on the add and edit links to the right of the content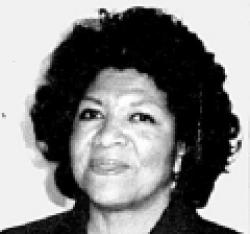 Born on 6-9-1940. She was born in Birmingham, AL. She was accomplished in the area of Education. She later died on 12-12-2012.
Basic Info
Attachments
Relations
Organizations
Accomplishments
Schools
Employers
Born Anita Ann Burrell in Birmingham, Alabama, she was valedictorian of the Class of 1957 at DuSable High School in Chicago. She received her bachelorââ?¬â?¢s degree in chemistry from Parsons College in Fairfield, Iowa, in 1961. In 1964 she earned a masterââ?¬â?¢s degree in organic chemistry from Illinois Institute of Technology. She later did post-graduate work in education at Buffalo State College.

After working as a research assistant at Northrop Space Laboratory in Huntsville, Alabama, she was a part-time instructor at the University of Alabama in Huntsville. She came to Buffalo in 1968 to work as a chemist for Starks Associates, working with compounds for cancer research.

After an allergy to acids forced her to retire from research, Mrs. White became a teacher. She joined the Buffalo schools in 1976, teaching middle school and high school life sciences and math. She was listed in "Who's Who Among America's Teachers" and received the Apple for the Teacher Award from Beta Phi Chapter of Iota Phi Lambda, a sorority of business and professional women. She retired in 1996 after 20 years.

She was a member of the Buffalo Teachers Federation, the National Education Association, the American Chemical Society, and the American Association of University Women. She was a devoted member of Alpha Kappa Alpha Sorority, Inc., Xi Epsilon Omega Chapter. She held numerous offices in the Chapter and was the Membership Chairman for many years.

She served on the advisory committee for the state teacher certification examination and was a peer coach for the Essential Elements of Education. She was a member of the Earth Science Curriculum Committee and the Physical Science Examination Committee for the Buffalo Board of Education. She also was a Sunday school teacher at Bethel AME Church.

She was married to Donald Everette White, her husband of 49 years. The couple has two sons, Mark E. and Todd E. She also has two sisters, Gaynell Burrell and Marion Joplin; and a brother, Ronald Arnell Burrell.