Edit Current Bio
UCB is written collaboratively by you and our community of volunteers. Please edit and add contents by clicking on the add and edit links to the right of the content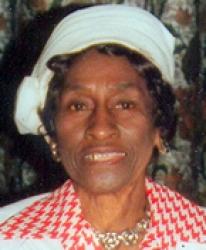 She was born in Memphis, TN. She is accomplished in the area of Community.
Basic Info
Attachments
Relations
Organizations
Accomplishments
Schools
Employers
Alma Brooks was born in Memphis, Tennessee. Her mother's name was Hallie Bibbins, and her father was Edward McCurry. She was the younger of two daughters. Her sister was Mary McCurry Hackney. She came to Buffalo at an early age. Her mother was a domestic worker and her father worked at the Crosby Company, a steel manufacturing company on Mortimer and Broadway.

On October 20, 1926 Alma married Booker T. Brooks with whom she had five children, Ernestine (deceased), Herbert, Dewey, William and Ziyadah, all of whom were born in Buffalo. She attended Buffalo Public Schools and graduated from Hutchison Central High School. She was the first black student to take Office Practice in Principal Thomas' and Mr. Weaver's office at Hutchinson Central High School... Alma was a devoted churchwoman and member of both the old Michigan Avenue Baptist Church and the Humboldt Parkway Baptist Church.

She held numerous positions in the church. For example, she was President of the B.Y.P.U., Junior Ushers, Deaconess Board and the Missionary Society. She was crowned the first "Queens" of the Michigan Avenue Baptist Church in 1936. She was also a missionary for the Michigan Avenue Baptist Church and later Humboldt Parkway Baptist Church. Her favorite spiritual was "How Great Thou Art." She was also a firm believer in keeping the body safe and would never entertain putting anything into her system that would cloud her mind.

Her church work extended to her home and her community. For over 25 years, she had a weekly Bible class for children in the neighborhood. It was called "Family Devotions." Her daughter Ziyadah recalls that her mother had an old red Arm and Hammer baking soda can with marbles in it. Every Friday, just before 3:00 pm her mother would take the can onto the front porch and rattle the marbles as a call to Family Devotions. More than 30 neighborhood children responded and came for their treat and devotions at the Brooks home. Many of those children, now adults, recall their family devotions in the Brooks home. Alma worked with a Mrs. Wright and Rev. Sanders, where she counseled and was a Good News Teacher of the Child Evangelism Fellowship. Other community activities include her work with the Deaconess Board of the Great Lakes Association where she was 2nd President. For a number of years, she was Hospitality Chairman of the Buffalo Baptist Women's Conference.

Her hobbies were reading and her passion was writing. For forty years, she was a columnist for the Criterion newspaper. Alma was also the author of two books: Quotations With A Meaning and Acres of Diamonds from My Scrapbook of Black Authors. When unable to find a publisher for her books in Buffalo, she contacted the Harlo Press in Detroit, Michigan where the books were published. Alma'��s writings did not go unnoticed as she received personal letters from President Ford, President Carter, Vice President Rockefeller and their cabinet members, in recognition of her publications.

Alma was also a frequent visitor to the Buffalo and Erie County Library where she participated in the public libraries Around the World in Books Program. Through this program, operated by National Geographic and the library, she would receive monthly books and pamphlets on various countries in the world. Her belief was that one should ââ?¬Å?travel by booksââ?¬ if that was all you could do. Alma saved each of these volumes and maintained a map of the world marking each country she ââ?¬Å?visitedââ?¬ with an ââ?¬Å?Xââ?¬. She was a consummate reader, gathering information from all news sources, books and others. She described her books as her hobbies. The back cover of one of her books had the following description:

ââ?¬Å?Everyone should start a ââ?¬Å?Hobbyââ?¬ early in life, to avoid being bored later in life. My hobby is collecting lines that give a thought from books, magazines, pamphlets, and newspapers, to deposit in scrapbooks to feast upon in old age. For thirty five consecutive years the Readerââ?¬â?¢s Bureau of the Buffalo Public Library, under the supervision of the late Mrs. Constance C. Green and Mrs. William Schiavan, selected yearly reading courses to satisfy my reading hunger.

My family and friends suggested that I sort out the quotations on Black History and compile a book of quotations with a meaning from my Scrapbooks of Black Authors. I have not read a book of this type, so I accepted the challenge. Sharing
the philosophy of these great writers with the public has been my dream for three decades.

To know how delicious this book is, and what a rich heritage blacks have, open to any page and you will be so thirsty, thrilled and amazed by the fascinating details of the cultural development of blacks in America-a segment of this countryââ?¬â?¢s history too often lost, forgotten or missing from text books-that you will want to read the entire book at once. Each family in America should have a copy of this book. Alma McCurry Brooks

She was also an avid reader, especially poetry. Some of her favorite poets and writers include Henry Wadsworth Longfellow, Harriet Beecher Stowe, Henry Thoreau, Charles Dickens, Robert Frost and Keating. African American writers include Carter G. Woodsonââ?¬â?¢s book, The Negro in Our History. Many of her favorite books are maintained by her daughter Ziyadah Uqdah, also an Uncrowned Queen with a long history of community contributions and community activism. Alma Brooks was truly a remarkable woman and a community treasure remembered by many for her contributions to the children of her community and her church family.