Edit Current Bio
UCB is written collaboratively by you and our community of volunteers. Please edit and add contents by clicking on the add and edit links to the right of the content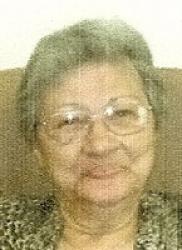 She was born in Olympia, OK.
Basic Info
Attachments
Relations
Organizations
Accomplishments
Schools
Employers
Alberta Simms was born in 1923 in the rural community of Olympia, three miles south of Okmulgee in Okmulgee County. Her parents were Delancy and Ada Goudeau Kennedy. She attended Olympia School through the eighth grade after which she attended Dunbar High School in Okmulgee for her freshman year. Alberta finished high school at Uganda Martyrs Catholic School in 1941 and married the same year.

In 1957, she contacted the national office of the NAACP about integration of schools in Okmulgee County and led actions that ultimately were successful in breaking down segregation. In pursuing the case on behalf of her oldest child and others, who were high school age, she was the only person to testify in the federal court case. Preston Schools Board of Education gave other testimony. The NAACP assigned an attorney to the case, Simms vs. Preston Schools Board of Education. Another family, the Browns joined in the suit. The suit resulted in a victory for the Simms family. Mark E. Simms, son of Alberta, was the first Black student to integrate Preston High School in the fall of 1957. The Brownââ?¬â?¢s child integrated a school in Morris, Oklahoma. The following year, Rita Simms was the first black student to integrate Okmulgee High School. Alberta had established a precedent with integration in Okmulgee County. Total integration of Oklahoma schools in 1972 followed her successes in 1957.

Mrs. Simms became a civil rights activist and advocate in Okmulgee County, leading and participating in efforts to integrate hotels, restaurants and places of employment. She collaborated and crossed paths with other Oklahoma civil rights leaders including Mrs. Clara Luper. Simms is active in politics and worked with the Okmulgee Democratic Headquarters where she served as Secretary for many years. She campaigned for Mike Synar for the U.S. Congress. On one occasion, former Oklahoma State Representative and Speaker of the House, Glenn Johnson was unable to make a rally in Okmulgee and he called on Alberta to speak in his absence. She accepted his request and received a favorable response.

Some of her hobbies include quilting and embroidery. She is the mother of three children who live in Oklahoma, ten grandchildren and three great grandchildren. She is now a resident of Beggs, Oklahoma.