Edit Current Bio
UCB is written collaboratively by you and our community of volunteers. Please edit and add contents by clicking on the add and edit links to the right of the content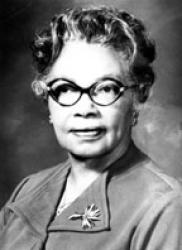 Born on 3-29-1900. She was born in New York City, NY. She later died on 11-19-1999.
Basic Info
Attachments
Relations
Organizations
Accomplishments
Schools
Employers
Born in New York City, Theresa G. Evans came to Buffalo in 1908 with her parents, Mack Gordon Anderson and Bettie Spencer Anderson, and her two brothers. Her father established the Manhattan Hotel on Michigan Avenue.

She was a graduate of a local public school and the Bryant and Stratton Business College. She studied at Northwestern University School of Office Management and the University at Buffalo, The State University of New York.

Employed first at the M. Wile Company as a certified accountant, she later married William James Greene, Jr., and lived in Baltimore, Maryland, for several years before returning to Buffalo.

One of the first two staff members employed at the Buffalo Urban League when it was founded in 1927, Mrs. Evans had advanced to become the Executive Assistant. In 1948, she married Williams L. Evans, then Executive Director of the League. She helped the League develop its broad program and supported it as an honorary member of its Board of Directors. She retired from the League in 1964.

Mrs. Evans served community youth as a member of the Girl Scout Council, YWCA Board, and as a fundraiser for both agencies. She was an active member of the Advisory Board of the Salvation Army for more than twenty years, and she was a member of the United Way House of Delegates. Because of her added interest in elderly persons, she was appointed secretary of the Senior Aides Program of Buffalo's Research and Planning Council where she served for two years.

Since few black women were employed in business during the Depression years, Mrs. Evans banded together with several other qualified women to found the Buffalo Chapter of Iota Phi Lambda business sorority. She also was a charter member of the Buffalo Chapter of The Links, Incorporated, a national service organization.

As a member of Lincoln Memorial United Methodist Church, she belonged to the Wesleyan Guild, the Commission on Missions, and continued activity with United Methodist Women. She was the oldest member of her church.

She served as organist of the Michigan Avenue Baptist Church for over twenty years and was blessed with a beautiful, rich contralto voice that was often combined in duets with others including her sister-in-law, the late Lauretta Anderson, former choirmaster of Lincoln Memorial United Methodist Church.

Mrs. Evans is the mother of Uncrowned Queens, Gwendolyn Greene and Theresa Greene Reed.

She was ninety-nine years old at the time of her death on November 19, 1999.