Edit Current Bio
UCB is written collaboratively by you and our community of volunteers. Please edit and add contents by clicking on the add and edit links to the right of the content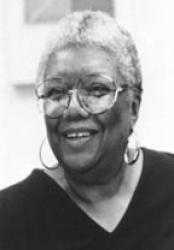 She was born in Depew, NY.
Basic Info
Attachments
Relations
Organizations
Accomplishments
Schools
Employers
Lucille Clifton was born in Depew, New York and attended Howard University and Fredonia State College. She is the author of ten books of poetry, including Blessing the Boats: New and Selected Poems, winner of the 2000 National Book Award for Poetry; The Terrible Stories, a finalist for the 1996 National Book Award; Good Woman and Next, both chosen as finalists for the Pulitzer Prize.

She has written seventeen books for children, including The Times They Used to Be, The Lucky Stone, Three Wishes, and the Everett Anderson stories. She has received fellowships from the National Endowment for the Arts, a Lannan Literary Award, an Emmy Award from the American Academy of television Arts and Sciences, the Shelley Memorial Prize, and the Charity Randall Citation.

In 1999 she was elected a Chancellor of The Academy of American Poets. She has served as poet laureate of the state of Maryland and is currently distinguished professor of the humanities at St. Mary's College in Maryland.